View the mobile benefits card to get benefits details and contact information from your smartphone. Save it to your home screen, too! Follow these instructions to bookmark the mobile benefits card on your smartphone.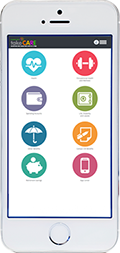 Learn how the medical plans work with the Wellness Points Program.
Open the glossary to learn key benefit terms and definitions.
It's always important to check if your current providers participate in the Cigna network. Visit www.cigna.com.
Through Cigna's Telehealth Connection service, you have 24/7 access to a board-certified doctor by phone or video conference. This quick and effective alternative for diagnosing and treating nonemergency medical needs is available to you and your dependents. This consult fee is treated like a normal medical expense under the medical plan you're enrolled in – the Blue Plan or the Gold Plan. If you have money in your Health Account, you can use it to automatically pay for your consult, or you can pay out of your pocket and save your Health Account dollars for future eligible medical expenses under your Children's Mercy medical plan. Any amount you owe will be stated clearly on your Explanation of Benefits. Cigna offers telehealth services through MDLive, and the cost per consult is $55. Learn more by visiting MDLIVEforCigna.com.
Take advantage of free preventive care benefits from an in-network Cigna provider. View the preventive care schedule.